OPENS APRIL 25TH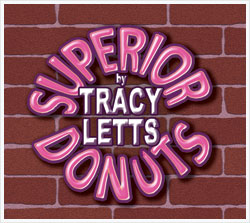 SUPERIOR DONUTS
by Tracy Letts
directed by Lindy Bruton

Set in modern day Chicago, Superior Donuts depicts the unlikely friendship between a down-and-out donut shop owner and his enthusiastic employee, who also happens to be an aspiring author with a serious gambling problem. Franco, the young writer, wants to update the old shop with healthy choices, music, and friendlier service. However, Arthur, the shop owner, wants to remain set in his ways.

Show dates:
Fri 04/25, Sat 04/26, Sun 04/27, Fri 05/02, Sat 05/03, Sun 05/04, Fri 05/09, Sat 05/10

Friday & Saturday shows at 8pm
Sunday matinees at 2pm

Purchase your tickets online by visiting our online ticket box office. To reserve your tickets and pay cash at the door call 313-532-4010 or email rcptickets@gmail.com.